My mate, and all-round good bloke Jay is having an exhibition down the coast...
I managed to check it out when I was down that way last weekend...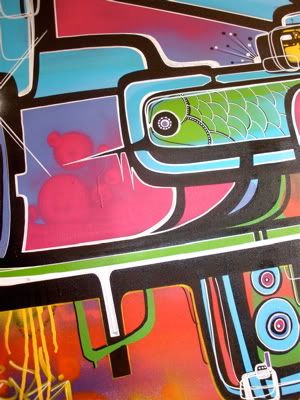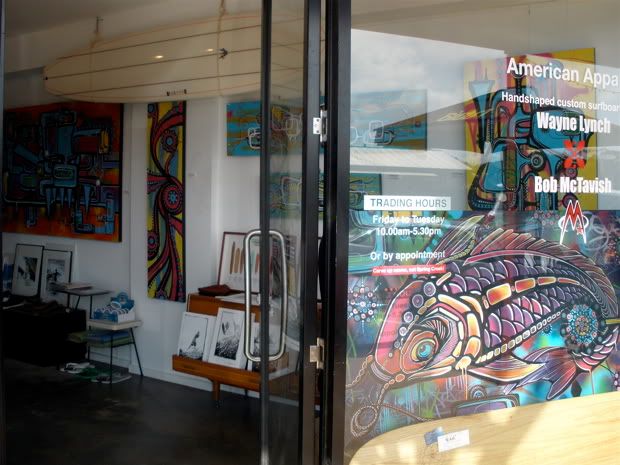 I FOUND THIS SCHPEEL ON A SURF COAST INFO SITE**:

Apparently;

TigerFish, in Torquay's Bell Street, has re-loaded the walls again with fresh new art, this time showcasing one of Australia's finest street inspired artists. Jay Walker has successfully made the transition from the gritty, creative little laneways of urban Melbourne into a much broader arena, and been accepted as a truly inspired talent. Melbourne's international reputation as a hotbed of uber-cool street art was formed through the efforts of artists such as Walker, who once skated furtively through the night armed with spraycans and markers, honing their skills. But these weren't crude vandal taggers, this group was driven by more than the urge to see their names on the wall. This was raw talent and an inspired, revolutionary group that wrote its own rules on the street.

Other featured artists currently on show at the gallery are Chelsea Gustaffson from Barwon Heads, and Torquay's own Narelle Craven. Tigerfish is closed on Wednesdays and Thursdays, and sometimes when the surf's good. Owner Grant Forbes can be contacted on 0407368118 for personal appointments, or can usually be spotted in the water piloting a red McTavish. Tigerfish is open most days, except usually Wednesdays and Thursdays, or when the surf's really good.

** I would never use the words "gritty", "hotbed of uber-cool street art" or "vandal taggers" to describe anyone/thing,
but you get the idea.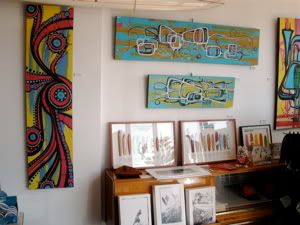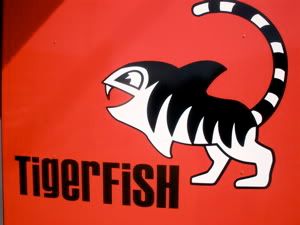 Seriously though, Jay does some amazing work and the exhibition and shop
are both well worth a look if you are down that way.

More info HERE.
and HERE.