IN THE UNLIKELY EVENT.

Peter Greenaway has a show opening at Hogan Gallery on Smith street tonight.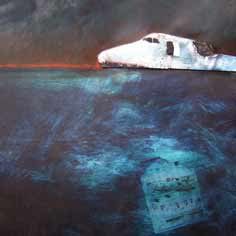 Sccccccchpeeel goes:
"Peter Greenaway combines assemblage and painting to explore the delicate
relationship between human culture, nature and the modern world.

In this new series Greenaway introduces images of stricken aircraft reminding
us of the fragility of human life and the constructed environment."

Considering an Air France plane went missing last night and hope
for the 200+ onboard is all but gone, Peter's timing is kinda weird,
spooky and unfortunate.

Either way, I coped a sneek peak last night and it's well worth checking out.
Not sure I'd enjoy looking at one of these works in my house everyday tho.
Bit strong for my taste.