...I just found out that Melbourne gallery Per Square Metre is closing down
(as we all know it) and looking to re-open in a different location and form.
Time will tell. Here's the farewell straight from the internets mouth...

The News:
On May 31st 2010, Per Square Metre will close its doors for the last time.
Due to forseen circumstances with dodgy landlords and the general
gentrification of Collingwood, Per Square Metre is shutting up shop until
a new suitable premises can be found to continue bringing you some light
love and liquor.

THIS IS NOT THE END.........THIS IS ONLY THE BEGINNING!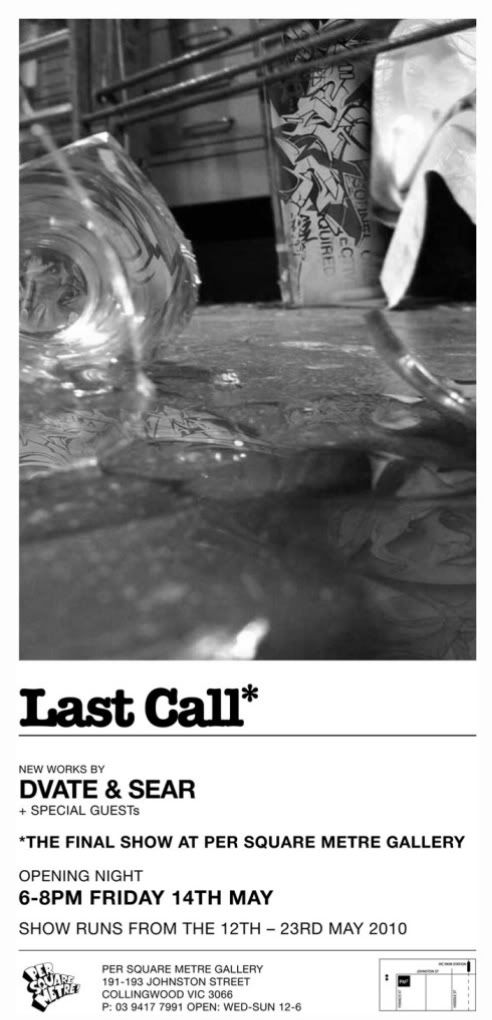 The History:
Renowned Gallery Per Square Metre was started in 2006 to fill a gap in the
commercial gallery market- that of an affordable, accessable, 100% artist
run space. The main goals being to promote, inspire and motivate
underground, up and coming and amateur artists and help them break into the
commercial market.
Per Square Metre encourages inclusive creativity and is well respected in
the scene due to their unpretentious skill sharing, knowledge and passion
for all people and things creative. As a studio, their prolific
collaborative work in group murals and exhibitions is well known and
sought after.
The Studio has housed artists such as Bernard Romerona, Dabs & Myla, Sear,
Dvate, Porno, Ling, Mayo, Sigs and numerous other nomadic artists from
Australia and around the globe. These artists and the Gallery have been
instrumental to raising the profile of street art and graffiti in the
legitimate art scene.