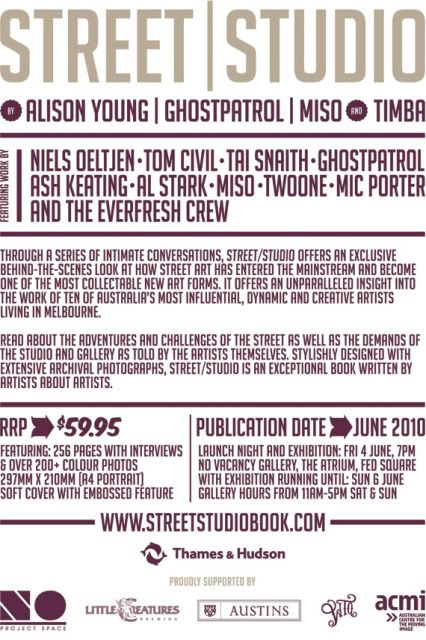 STREET/STUDIO By Alison Young, Ghostpatrol, Miso & Timba Smits

Featuring work by Niels Oeltjen / Tom Civil / Tai Snaith / Ghostpatrol /
Ash Keating / Al Stark / Miso / Twoone / Mic Porter and the Everfresh Crew
"Through a series of intimate conversations, Street/Studio offers an exclusive behind-the-scenes look at how street art has entered the mainstream and become one of the most collectable new art forms. It offers an unparalleled insight into the work of ten of Australiaís most influential, dynamic and creative artists living in Melbourne."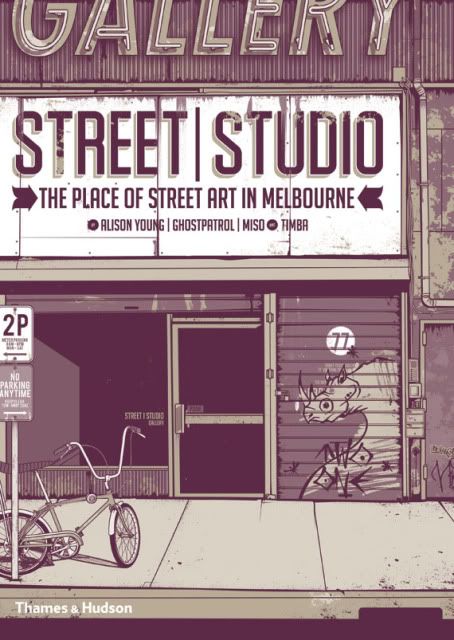 Join them for the official launch of Street/Studio
4th of June at 7pm, No Vacancy Project Space, Federation Square Atrium, Melbourne
This will be the first chance to get your hands on this book and have it signed by the artists and authors. A handful of original Ghostpatrol watercolours have been randomly inserted into 10 of the books available on the opening night.

If you can't make the opening night keep an eye out for:

6 June ::: Sunday 2pm :::
Screening of Exit through the Gift Shop
the new Bansky film at ACMI and panel with Miso and Alison Young, followed by book signing at 5pm

12 June ::: Saturday 1pm :::
Book signing with Miso, Ghostpatrol and Alison Young
Outre Gallery, 249 Elizabeth Street, Melbourne
+ surprises

15 June ::: Tuesday 6.30pm :::
Book signing with Alison Young, Miso, Ghostpatrol, Niels and Meggs
Readings Carlton

Click either flyer to learn more...